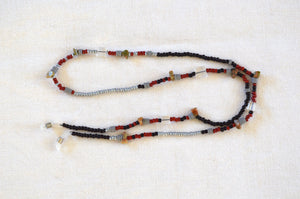 BILI EYEWEAR LANYARDS Red with silver
Regular price
R 295.00
R 0.00
Unit price
per
Strength: these items are made by hand using double thread and knotted at the finishing end at 3 different positions. 
Being delicate however they will need to be handled with care.
Material: semi precious stone chips including lapiz lazuli, labradorite, jade, amethyst and turmerine. These are mixed up with interesting elements including Japanese + Chinese glass seed beads The rubber ends can be adjusted to fit all size arms of glasses.
Length: 66-68cm
In support of sustainable design, we back the labour resource that is abundantly available locally in Wallacedene, near Kraaifontein, Cape Town. Our team of women, mainly mothers, possess world class beading skills. Their artistic talents and impeccable work ethic are applied to weave into the fabric of our society by sustaining their homes and educating their children and thereby providing a touch a African Handmade for the world to feel.
Delivery Charge  (South Africa only). R100 for first pair purchased and free delivery for a spend of R500+  
---